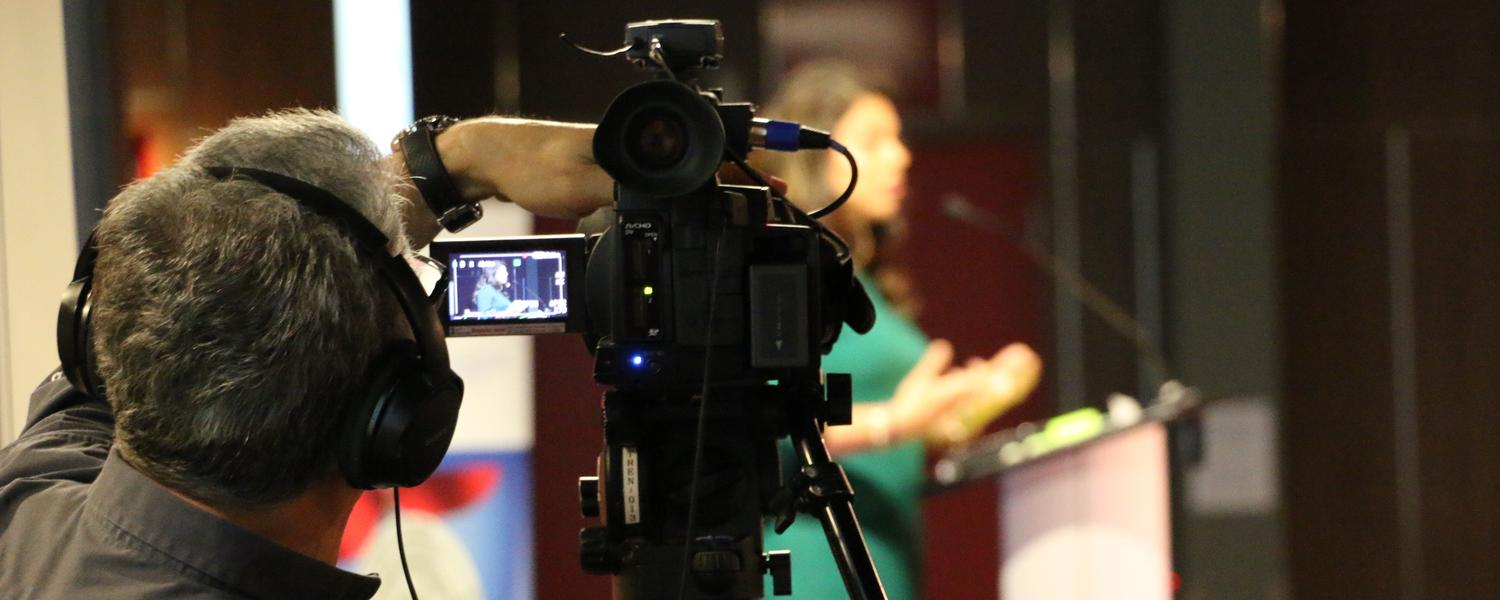 Communication support
Event planning and other promotional support is available for Institute members
The O'Brien Institute endeavours to inform and engage with the public, researchers and policy-makers, while bringing a strong public health perspective to critical issues at a local and global level through events, seminars and conferences. As part of ongoing knowledge translation and community outreach efforts, the Institute hosts, co-hosts and supports a variety of events, in person and virtually, often working in partnership with influential and community organizations.
Depending on your needs, the Institute can be involved at various stages of event development, from ideation, planning to execution as well as post-event follow up. Logistics management may include, but is not limited to, speaker outreach; agenda development; selection of venue, AV, and catering; and communications planning.
The Institute can amplify existing promotional materials for your event, or create communications plans from scratch. The team designs engaging graphics, posters and promotional emails, and is also able to support partner events through social media campaigns and newsletters.
Social media can be an important tool for networking, reaching new audiences, raising awareness, and promoting research. However, to use social media successfully requires a careful understanding of platforms, best practices and potential risks and rewards. The O'Brien Institute offers support in key areas including:
Social media strategy
Platform tactics
Engaging with the public and/or policy makers
Media outreach
Paid advertising
Support from O'Brien Institute communicators aims to ensure members get the most out of their social media use, and make the impact they seek in the digital landscape.   
Events, engagement initiatives and research studies all can benefit from promotion. A social media campaign can provide a low-cost, impactful, and effective way to reach, and engage with, a target audience. The O'Brien Institute communication team works with members and partners to craft and execute everything from low-level, channel-specific strategy, to full, multi-platform campaigns for maximum results.
Social networking is among the most widely adopted technologies of our time, but utilizing these platforms for professional purposes can be intimidating. Addressing this challenge is a need that's been identified by Institute communicators, who will 'work the problem, answer questions, suggest courses of action and put members at ease. The O'Brien Institute communication team can advise on what platform(s) or strategy are best suited for our members, based on their unique needs and circumstances.
The communication team builds microsites – within the O'Brien Institute website – for research groups, centres and partnership initiatives. The team also suggests or works with third party developers to build external sites for research groups requiring that kind of asset. The communication team sources visual elements, such as photos and infographics, conducts search optimization, and edits text and overall content. When necessary, Institute communicators can also manage website asset on behalf of members and partners.
The Institute communication team can ideate, plan and design what an online presence can and should look like, including websites, email campaigns, surveys and webinars. This is done as part of the management of all the Institute's digital assets. It can also be done on behalf of research partnerships, units, groups and centres.
What an online initiative should look like? What it should include? Where to find and learn to use those tools? These are all questions the communication team can answer on behalf of members and units. A full-scale presence is sometimes the only way for a research initiative to succeed – incorporating full suite social media, email campaigns, multiple websites and live digital events. Other times, an online presence is more of a distraction. Working closely with members looking for advice and support, the communication team can develop an understanding of their needs and desired outcomes, and advise on the best course of action. Ultimately, Institute communicators can advise on how to best present research online and enable community engagement in the digital space.
When you have questions or comments on any of the above, you can contact the relevant Institute team member, or start with the iph@ucalgary.ca email when in doubt.