E-Health Policy Symposium
Health-care system must embrace potential of digital communication, symposium hears
Policy symposium addresses how to improve the healthcare system, and the health of the population, through the integrated use of electronic information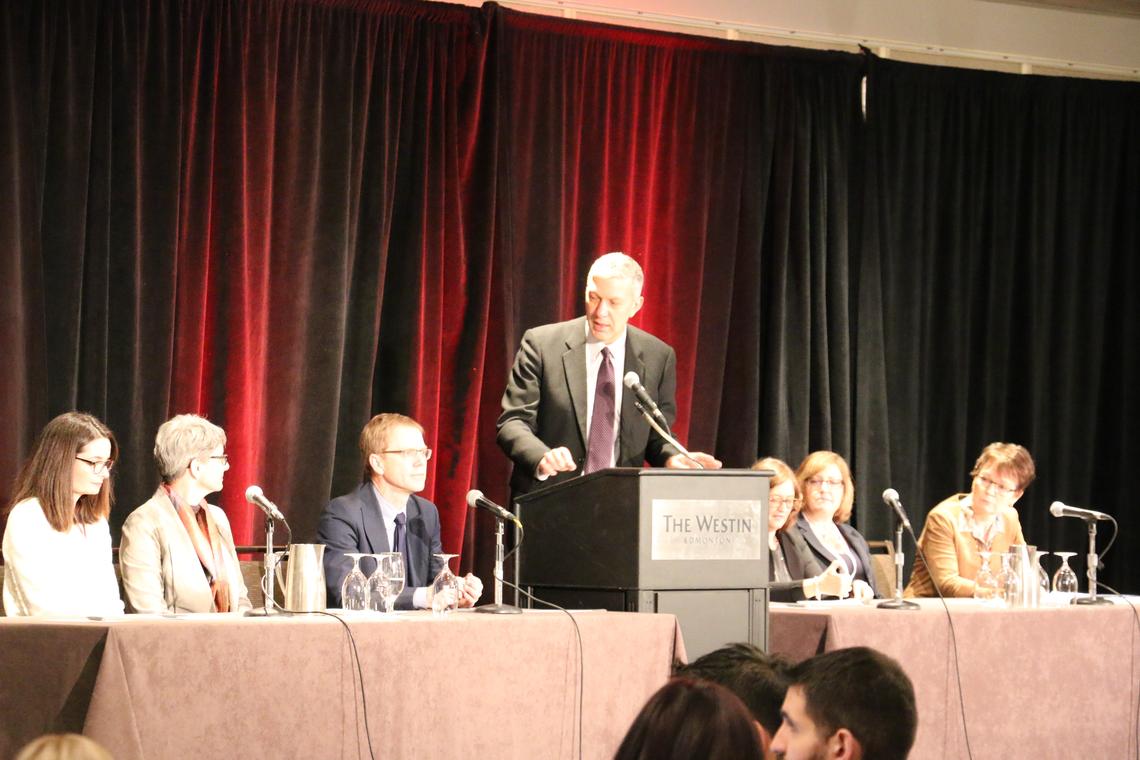 Photos by Julia MacGregor
The impact of digital technology in today's world is hard to miss. Wi-Fi-enabled gadgets have changed the way we work, play and communicate. But, despite being proven to significantly improve results for patients and satisfaction with care, health care systems have been slow to adopt the use of digital technologies to improve communications between patients and care providers, and to enhance information sharing within the system.
This systemic disconnect was brought to the forefront at a public policy symposium hosted in Edmonton on February 14, 2017, by the O'Brien Institute for Public Health and the Institute of Health Economics. 
"There is compelling evidence that these well-proven technologies will benefit patients and their families, and we are hopeful this event will act as a catalyst for progress in this area," said Dr. Doreen Rabi, an associate professor in the Departments of Medicine, Community Health Sciences and Cardiac Sciences at the Cumming School of Medicine  who recently authored a policy white paper, on behalf of Alberta Health, on engaging providers in digital health uptake.
"To not innovate within the health care system in the face of compelling evidence is a failure to the citizens that support and use the system," Rabi , who is also a member of the O'Brien Institute for Public Health and the Libin Cardiovascular Institute of Alberta, added
Access of patients to their care providers through email, and other digital forms of communication, or open, accessible e-health records, which allow the sharing of information between care providers across medical disciplines and institutions, deserve our investment as a province, she said. 
However, some care providers and custodians of health information have been reluctant to adopt, citing concerns over information privacy, liability issues, and ambiguity over billing processes for this kind of work. With this in mind, patients, providers and system administrators gathered together at the full-day symposium to discuss ongoing policy and implementation strategy development.
A patient-centred approach
Annamarie Fuchs has experienced firsthand the consequences of non-integrated health records. A patient advocate, she spoke at the symposium about her experience as a patient, and about the urgent need for transparent processes that allow patients to have access to their health information.
"We've all been patients, at the bedside of patients, or advocating for patients, and I believe we all have opinions about how our health information should, or could, be shared," said Fuchs, who represents the patient group IMAGINE Citizens Collaborating for Health. "I personally believe that information is power. It is the great equalizer, but only if it's shared."
Fuchs told the story of Greg Price, a 31-year-old Calgary man who died unexpectedly in 2012, three days after surgery for a treatable cancer. A study of Price's experience with the province's health-care system detailed multiple breaks in the continuity of Price's care, such as lost information or poor communication between providers.
"Ultimately in sharing Greg's story we learned that continuity of care, largely associated with multiple breakdowns in communication, was at the heart of that tragedy," said Fuchs.
The Alberta advantage
Alberta has an opportunity to lead the country in health information sharing, according to Dr. William Ghali, scientific director of the O'Brien Institute for Public Health.
"There is a real commitment to changing paradigms of care in this province, and there is a real sense that Alberta is in a strong position to do so because of the significant achievements that have been reached in the domain of e-Health," said Ghali, who is also a professor in the Departments of Medicine and Community Health Sciences at the Cumming School of Medicine. 
Alberta developed Canada's first provincial electronic health record, and has recently announced the creation of an online portal that will permit patients to see their health data.
Integrated health records will take it one step further, allowing the secure exchange of health information, and improving health care delivery by ensuring patients get the right care, with the right providers, at the right time, said Ghali.
"Creating a province-wide integrated health record will ensure that patients and their care teams will have all the necessary information needed to make the best decisions possible." 
Download the day's presentations and watch the videos below: